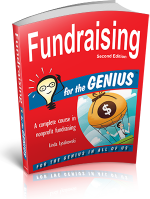 Thomas Edison famously said that "genius is 1 percent inspiration, 99 percent perspiration." Reading this For the GENIUS book shows that you have the inspiration to master the art and science of fundraising. Linda Lysakowski, ACFRE, helps you with the perspiration part by showing you how to dramatically increase your fundraising results by employing tried-and-true methods used by the most successful nonprofits and institutions. Learn how to develop an integrated fundraising program that allows you to leverage your human and financial resources to create a strong organization.

Fundraising for the GENIUS in this expanded second edition is a complete course in nonprofit fundraising. It will:

Teach you to develop a sustainable fundraising program that will grow with your organization and allow you to fulfill your mission.
Help you understand the world of philanthropy, development, and fundraising (and to know the differences between each).
Enable you to bring together your board, non-development staff, development staff, and volunteers to create a powerful development team.
Show you how to evaluate your success and plan for growth in your development program.
Help you understand the value of planning in development.
Show you how to develop a compelling case for support.
Explain all the tools and methods available to you as a fundraiser and chose the ones that make the most sense for your organization.
Provide tools for raising awareness of your organization in the community and building relationships that will help you succeed in your fundraising efforts.

We Think Highly of Our Readers, Obviously!

Though we admit to a bit of tongue-in-cheek fun in referring to our readers as geniuses, we do in fact think highly of them. We know that they are intelligent and knowledgeable about many subjects, just not necessarily on the subject of the GENIUS book they've just picked up. They know that despite the title, our books are for pretty much everyone, not just "Einsteins"—though even some Einsteins will enjoy our books too!

We celebrate the fact that our readers are inspired to learn a subject enough to pick up one of our books, which in turn inspires us to ensure, through plenty of perspiration at every step, excellence in producing them. Pure genius!