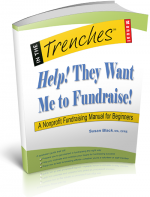 If you find yourself in the role of fundraiser for your organization, you could use a little good news: You have found the book you need to get started. That's the first bit of encouragement. The second bit is this: You can do this!

Help! They Want Me to Fundraise! A Nonprofit Fundraising Manual for Beginners is for anyone new to fundraising. Perhaps you serve as a board member or other volunteer of a nonprofit that needs to raise money. Or maybe you're employed as the new development director or even as the executive director. It's even possible that you worked with another organization in the past that raised money but you weren't the one in charge. Now someone has asked you to step up to the plate and you're not sure what this is going to require—or even if your organization is ready.

Seasoned fundraising consultant Susan Black pours into this book the lessons of her twenty years of working in the nonprofit fundraising field. In a no-nonsense, economical style—complete with worksheets, tables, and illustrations—Susan mentors you in the most important things you need to know to get started in fundraising. More importantly, she helps you assess where your organization currently stands and identify what you need to do next to get on a path to fundraising success.

No matter your role in your nonprofit, Help! They Want Me to Fundraise! will provide you with the tools you need to feel confident in your ability to take a leadership role in fundraising.
Other Details:
Charity Channel Press - In the Trenches Series